Shopping at LEGO or Amazon?
Please use our links:
LEGO.com
•
Amazon
As an Amazon Associate we earn from qualifying purchases.
Facts or rumours?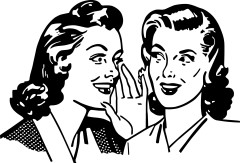 If you've been reading other Recognised LEGO Fan Media (RLFM) websites this week you might have noticed that many of them have started publishing rumours about summer set releases.
The reason for this is that LEGO's AFOL engagement team (AFOLET) has just changed the rules about what we can and cannot publish, and while we are still not permitted to publish confidential images and others of dubious provenance, we are now allowed to report on 'text-based rumours' if we wish.
The change has been made primarily for the benefit, and at the insistence of, YouTubers who felt they were at a disadvantage because non-RLFM channels were reporting on rumours with impunity.
However, we have decided to continue not publishing rumoured information on Brickset because we generally know with confidence whether rumoured information is accurate. Publishing rumours might therefore present challenges as we will never publish information that we know to be false. Of course, not publishing false rumours would inevitably confirm which are true and that creates additional difficulties.
Confirming or denying the veracity of information could risk discrediting other Fan Media outlets which may innocently publish rumours they believe to be true. Furthermore, verifying rumoured information would risk damaging Brickset's relationship with The LEGO Group, which provides important benefits to the database and our article content and therefore Brickset users!
With that in mind, nothing is changing! We will continue to ensure that the Brickset database remains up to date and provide comprehensive and accurate news coverage.
© 2021 Brickset.com. Republication prohibited without prior permission.
Shopping at LEGO.com or Amazon?
Please use our links: LEGO.com • Amazon
Recent discussions • Categories • Privacy Policy • Brickset.com
Categories
1

Announcements

12.8K

General

14.9K

Shopping

2.2K

Brickset

1.2K

Other
Brickset.com is a participant in the Amazon Services LLC Associates Program, the Amazon.com.ca, Inc. Associates Program and the Amazon EU Associates Programme, which are affiliate advertising programs designed to provide a means for sites to earn advertising fees by advertising and linking to Amazon.
As an Amazon Associate we earn from qualifying purchases.