Shopping at LEGO or Amazon?
Please use our links:
LEGO.com
•
Amazon
As an Amazon Associate we earn from qualifying purchases.
Introducing Build a MOC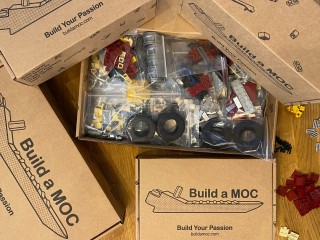 Build a MOC is website where you can buy kits of other people's MOCs and, of course, make your MOCs available to others, too.
It's run by two AFOLs, Gerardo and Alvaro, in the south of Spain, who started selling parts on the secondary market to finance their LEGO hobby back in 2012. Since then their business has grown considerably and now their store has over 650,000 parts in 10,000 lots.
During this time they have encountered two problems: first, it can be a hassle for buyers wanting to build a particular MOC to source the parts, particularly when multiple sellers are involved. Second, it's also a hassle for MOC designers to sell kits of their sets: sourcing, sorting, packing and so on. So Build a MOC was set up to solve both of them.
Gerardo explains "Many of our customers came to us frustrated by the complexity of buying LEGO bricks for their projects. Dealing with multiple websites for buying bricks and instructions, as well as multiple shops where they need to navigate complicated terms, restrictions and shipping and handling fees, and possible incidences, can be very frustrating and time-consuming.
© 2020 Brickset.com. Republication prohibited without prior permission.
Shopping at LEGO.com or Amazon?
Please use our links: LEGO.com • Amazon
Recent discussions • Categories • Privacy Policy • Brickset.com
Categories
14.8K

General

2.2K

Brickset

13.7K

Shopping

1.2K

Other
Brickset.com is a participant in the Amazon Services LLC Associates Program, the Amazon.com.ca, Inc. Associates Program and the Amazon EU Associates Programme, which are affiliate advertising programs designed to provide a means for sites to earn advertising fees by advertising and linking to Amazon.
As an Amazon Associate we earn from qualifying purchases.