Shopping at LEGO or Amazon?
Please use our links:
LEGO.com
•
Amazon
As an Amazon Associate we earn from qualifying purchases.
Technic Bell-Boeing V-22 Osprey cancelled?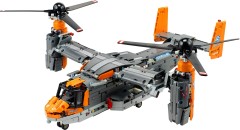 Here's an interesting story from our friends over at Zusammengebaut. Apparently the German Peace Society has condemned LEGO's decision to produce what is fundamentally a modern military aircraft, even if the variation modelled is used for search and rescue.
It claims that LEGO cooperates with arms companies and plans to stage demonstrations outside three brand stores in Germany this week. You can read more about its concerns and plans on a website called Love Bricks Hate War.
What's most interesting, though, is that LEGO Germany has issued a statement in response: "The LEGO Technic Set 42113 Bell-Boeing V-22 Osprey was developed by us in relation to the aircraft's operations in rescue operations. The aircraft is mainly used for military purposes. We have long followed the principle of not designing sets with military vehicles. In this case, we have not strictly followed our own guidelines and high standards and will therefore review the plans to launch the product on August 1st."
Whether they are speaking just for the German market or globally, and whether anything will come of it, remains to be seen. However, having just checked on YouTube, I can't see any reviews of it there, which would indicate that it's not already for sale anywhere, LEGO hasn't offered it to us to review, and it's no longer listed at LEGO.com, so perhaps it is having second thoughts...
© 2020 Brickset.com. Republication prohibited without prior permission.
Shopping at LEGO.com or Amazon?
Please use our links: LEGO.com • Amazon
Recent discussions • Categories • Privacy Policy • Brickset.com
Categories
14.7K

General

2.2K

Brickset

13.7K

Shopping

1.2K

Other
Brickset.com is a participant in the Amazon Services LLC Associates Program, the Amazon.com.ca, Inc. Associates Program and the Amazon EU Associates Programme, which are affiliate advertising programs designed to provide a means for sites to earn advertising fees by advertising and linking to Amazon.
As an Amazon Associate we earn from qualifying purchases.