LEGO never ceases to surprise me, what discoveries that are still waiting to be found out in the world.  In 2016 many new old undiscovered items have been found by AFOLs all over the world....
LEGO Minitalia.... that Italian LEGO line of the 1970s, which as it turns out was produced because LEGO was considered a luxury toy to many Italians (and thus had poor sales there).... and not because of any toy import restrictions.... well it turns out that Minitalia was not produced in Italy... but in Kolding... contracted out by TLG using a cheaper plastic for less expensive sets shipped to Italy.  Even Minitalia got caught up in the "marbled LEGO" craze....
Only the white window/green shutters were sold in these sets.  Everything else was found in private collections in Kolding (Image: James).
------------------------------
And then there's those old pricey 1955-70 1:87 HO scale LEGO cars and trucks.  The first of the cars... an Opel Kapitän of 1957 was never actually produced for sale, and only about a dozen examples are known so far.  It turns out that these were produced in Norway... and not Billund Denmark, like all future cars/trucks.  Recently my Norwegian LEGO collector friend Arild found a pair (now in his collection)... probably today the priciest of old LEGO parts... these (so far unique) green and dark red) Opels would command over 5000 Euros each today....
----------------------
But my favorite LEGO mystery part is a much later 6661 Mobile TV Studio first produced in 1989 and early 1990s.  There are now more versions of this set... some quite pricey... once people become aware of them... ;-)
They made this worldwide set for hanging on a rack...
... or just in a box on a shelf....
Well.... as it turns out... not all the sets had "TV" printed on the 1x4x3 pair of blue panels...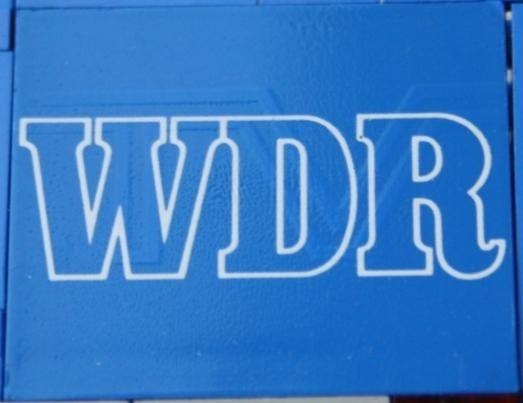 Looks like some of these were overprinted "WDR", even though the "TV" imprinted into the panel is still plainly visible.
WDR stands for "West Deutsche Rundfunk"... the northwest Germany TV station (based in Cologne).  The TLG Archives and German LEGO marketing folks had no documentation on why this part was produced.  But it appears that some "special" sets were produced as a promotional set for WDR station's 25th Anniversary in 1990.  Only thing is, it appears this was done "under the table".  Perhaps a WDR executive contacted a LEGO executive to get a couple hundred of these made for promotions by the German TV station.
So they promo sets were thought to have used just regular 6661 set boxes and instructions.....
And inside in the cellophane sealed bag were WDR panes... so you wouldn't know if you had a WDR 6661 set, until you opened the box.  And then these showed up.....
6661 sets with WDR seals!!   So it looks as though the German TV station had special sealed sets for their Silver Anniversary promotion.  BUT... this set also exists with just the regular circular transparent box seal.
Well what might be the cause of that?  I bet TLG produced more of these WDR blue panels than were needed for the WDR promo sets.  What would you think TLG would do with those extra WDR blue panels?  Throw them away?   Hell no!   TLG did what they do best... they just put the leftover WDR panels into regular sealed 6661 sets.  This makes for 2 rare versions of the WDR 6661 sets, as well as the normal "TV" 6661 versions (hanging and non-hanging boxes).  Keep your eyes peeled.  These set types are still unknown to most collectors!  $$$
------------------------
Here's another old forgotten obscure LEGO set that just reappeared... the 159 blue train track era (1966-79) set.  Except this isn't the 1976 "rails and crossing" parts pack.   This is a 1968 entire train layout set with all the parts needed to build the track layout on the side of the "carry-all" type box... along with the necessary quantity rail ties (sleepers)....
Apparently this set was sold in very few continental European countries in 1968, and discontinued almost immediately.   Never saw this before 2016....
More unknown stuff to come... gotta get to bed for now though (4AM in the USA EST)....
I'm working on bringing my online LEGO collectors guide to the present (2016)... but old stuff keeps getting in the way!  ;-)