Thought I'd share with you on some of the fun I've had this weekend going though all the Lego from my childhood and show you a few pictures of everything I've found.
The backstory to this is that I was born and grew up in Finland, but in the late 90's I originally came to UK to study but then ended up making a career and marrying a British woman and therefore staying here in all likelihood for good. Obviously having moved out from my parents I never really asked what happened to all my old things and Lego certainly hadn't been out for years even before that.
Now fast forward to 2013, we are now expecting our first child in the autumn and at this point my mum, who still lives in Finland, pulled out this large plastic crate of all my old Lego which she said she had kept so that I could give it to my children when the time came. Now obviously unknown to her, I have been collecting Lego as an adult for the last few years, so you can imagine how happy I was to ship it all back to England and finally this weekend I had time enough to go through it all and see what was there!
Having been looking through the sets it seems that most of the sets are from the mid 80's but there is some evidence of older sets from the late 70s down to the last set probably being the 1989
#6274
Caribbean Clipper set.
Firstly, here are all the minifigures that I could complete from the pieces:
I was surprised how many complete space men I could get. I couldn't find any of the light gray weapons for the yellow castle type knights and some of the city figures were partly guesses in what they were supposed to be wearing. Not quite sure what the three animal figures at the back were, I'm guessing duplo.
This guy looked a little out of place though: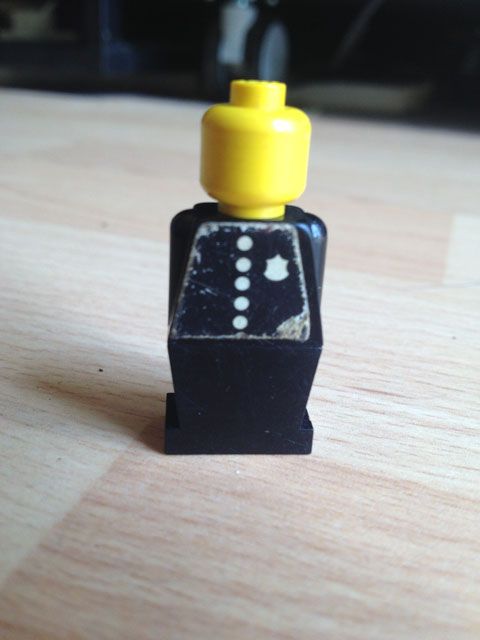 I have no idea where this one is coming from and seeing as I was born the same year as the 'modern' minifigure (1978) it seems this must be older and therefore might be a hand off from someone older in the family. If anyone has any ideas of the origin I would be very interested to hear.
Next come the now partly sorted elements and base plates as well as a few loose instructions and a catalogue that were in the box:
I had to laugh about the amount of various wheels. I must have had a lot of Lego vehicles that they came from. The pieces are not yet cleaned and there seems to be an aweful lot of bluetack in them for some reason. At least I can't complain too much about having to clean them as I know I am the only one to blame for the mess myself!
Finally some inevitably glued in pieces as well as the larger odd pieces that didn't really fit anywhere else: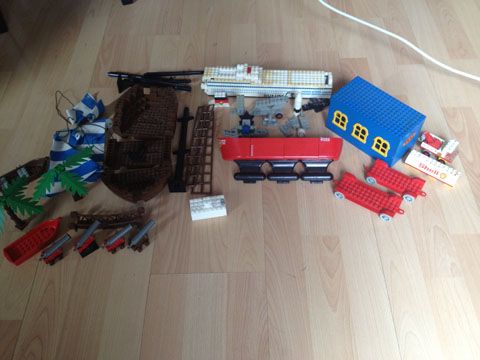 The
#4025
set hull is interesting due to the heavy keel parts included so you could actually sail it in water. The slightly broken cruise ship is also interesting as it must have been a unique set to Finland and Sweden where those cruise ships operate between Helsinki and Stockholm. There was another one in the box as well for Viking Line, but as it was not glued in and the stickers were in pretty poor condition, I decided to take it apart.
Anyways, just thought I'd share on the fun I've had sorting it all out! The memories that come from handling toys that you played with nearly 30 years ago is quite amazing although I must admit that for most of the stuff there I have very little recollection of the actual sets. I was always more of a freeform builder as a child. I should have taken photos of some of the funny minifig combinations that were made when I first pulled them out of the box!