Shopping at LEGO or Amazon?
Please use our links:
LEGO.com
•
Amazon
As an Amazon Associate we earn from qualifying purchases.
Interview with Milan Madge, designer of 10305 Lion Knights' Castle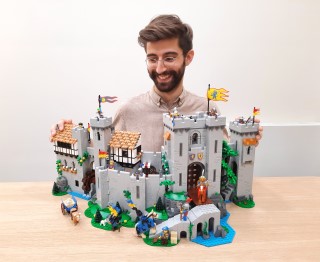 After discussing the magnificent 10497 Galaxy Explorer with Mike Psiaki, our attention moved to 10305 Lion Knights' Castle and its designer, Milan Madge, while visiting Billund last month.
This design was developed with influence from Mike, so both designers contribute to our short interview.
This model represents quite a dramatic departure from its primary inspiration, 6080 King's Castle. Was consideration given to developing something more faithful to the original?
Milan: Yes, we considered a few different directions. We started by examining different kinds of castle within the range, so were building updated versions of 6080 King's Castle and 6086 Black Knight's Castle, among others, much like 10497 Galaxy Explorer. However, we found ourselves wanting to acknowledge the whole Castle universe, rather than focusing on one specific model. When discussing our favourite LEGO castles, we were finding that one would have the best gate, while another included the best drawbridge or hidden passage.
© 2022 Brickset.com. Republication prohibited without prior permission.
Shopping at LEGO.com or Amazon?
Please use our links: LEGO.com • Amazon
Recent discussions • Categories • Privacy Policy • Brickset.com
Categories
1

Announcements

14.4K

General

16K

Shopping

2.2K

Brickset

1.2K

Other
Brickset.com is a participant in the Amazon Services LLC Associates Program, the Amazon.com.ca, Inc. Associates Program and the Amazon EU Associates Programme, which are affiliate advertising programs designed to provide a means for sites to earn advertising fees by advertising and linking to Amazon.
As an Amazon Associate we earn from qualifying purchases.