Shopping at LEGO or Amazon?
Please use our links:
LEGO.com
•
Amazon
As an Amazon Associate we earn from qualifying purchases.
Interview with Mike Psiaki, designer of 10497 Galaxy Explorer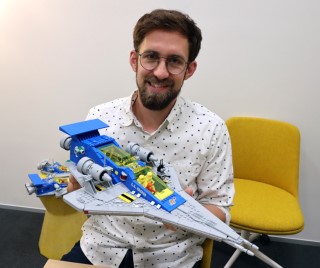 Brickset visited the LEGO Campus in Billund last month, touring the new headquarters and discussing the 90th anniversary of LEGO.
The event included brief interviews with Mike Psiaki and Milan Madge, the designers of 10497 Galaxy Explorer and 10305 Lion Knights' Castle, respectively, although both designers had some influence on each model. Our conversation begins with the new Galaxy Explorer.
Focusing first on this reimagining of 497 Galaxy Explorer, or 928 Space Cruiser and Moonbase, was consideration given to including the moonbase mentioned in the original European set name?
Mike: Initially, we were considering including the ground structure, which also meant bringing back the old moon baseplate. We know that people love that plate and we certainly do too. There would be complications in doing that, but it is certainly not impossible. Nevertheless, including the crater baseplate ultimately seemed weird, especially as the vehicle had become bigger, relative to the original model. Also, the conflicting grey between the Galaxy Explorer and the baseplate could create issues, so we thought about changing the colour to tan because that complemented the ship, but updating the colour of something so iconic felt wrong.
© 2022 Brickset.com. Republication prohibited without prior permission.
Shopping at LEGO.com or Amazon?
Please use our links: LEGO.com • Amazon
Recent discussions • Categories • Privacy Policy • Brickset.com
Categories
1

Announcements

14.4K

General

16K

Shopping

2.2K

Brickset

1.2K

Other
Brickset.com is a participant in the Amazon Services LLC Associates Program, the Amazon.com.ca, Inc. Associates Program and the Amazon EU Associates Programme, which are affiliate advertising programs designed to provide a means for sites to earn advertising fees by advertising and linking to Amazon.
As an Amazon Associate we earn from qualifying purchases.