Shopping at LEGO or Amazon?
Please use our links:
LEGO.com
•
Amazon
As an Amazon Associate we earn from qualifying purchases.
75341 UCS Landspeeder revealed!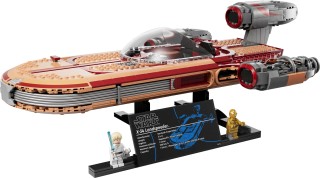 Here's the press release for the next Ultimate Collector Series Star Wars model:
75341 Landspeeder

1,890 pieces, rated 18+

$199.99 / £174.99 / € 199.99

Available from 1st May at LEGO.com
Today, the LEGO Group announces the new epic LEGO Star Wars Luke Skywalker Landspeeder set – the latest in the LEGO Ultimate Collector Series (UCS). A faithful recreation of Luke's battered vehicle, the new 1,890-piece model is a must-have for Star Wars and LEGO fans alike.
X-34 Landspeeders were typical civilian transports, designed to withstand the roughest terrains. The Landspeeder was first seen in Star Wars: A New Hope, where Luke used the vehicle extensively as part of his farm work, travelling across Tatooine's harsh deserts. Accompanied by C-3PO, Luke used the Landspeeder to locate R2-D2, when he was discovered by Obi-Wan Kenobi. It was also the vehicle they were travelling in when Obi-Wan used a Jedi mind trick to get past Stormtroopers guarding entry into Mos Eisley. Eventually Luke sold the Landspeeder to pay for his transport to the planet Alderaan.
© 2022 Brickset.com. Republication prohibited without prior permission.
Shopping at LEGO.com or Amazon?
Please use our links: LEGO.com • Amazon
Recent discussions • Categories • Privacy Policy • Brickset.com
Categories
15.7K

General

2.3K

Brickset

13.8K

Shopping

1.2K

Other
Brickset.com is a participant in the Amazon Services LLC Associates Program, the Amazon.com.ca, Inc. Associates Program and the Amazon EU Associates Programme, which are affiliate advertising programs designed to provide a means for sites to earn advertising fees by advertising and linking to Amazon.
As an Amazon Associate we earn from qualifying purchases.