Shopping at LEGO or Amazon?
Please use our links:
LEGO.com
•
Amazon
As an Amazon Associate we earn from qualifying purchases.
Blocks commemorative 90th issue out now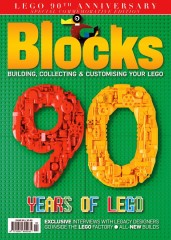 Here is the press release for the 90th issue of Blocks magazine:
Blocks magazine celebrates 90 years of the LEGO Group with exclusive interviews and builds
It's time for the issue of Blocks magazine that no LEGO fan can afford to miss – Blocks Issue 90 is kicking off the LEGO Group's 90th anniversary party! This 116-page special edition is packed with exclusive features, including interviews with legacy designers, 90 years in artefacts and a tour of the LEGO factory.
Issue 90 is available worldwide as a single issue or as part of a subscription at blocksmag.com and will be in UK stores from April 7. Everyone who subscribes by May 4 will be in with a chance of winning one of two 10298 Vespa 125 sets!
What's wrong with the classic horse? How can designing monorail layouts get boring? Surely the LEGO owner didn't help design Captain Redbeard?! The only way to get stories like this is from the people who were there in the 1980s and 1990s, when design choices were made that still define what LEGO sets are today.
© 2022 Brickset.com. Republication prohibited without prior permission.
Shopping at LEGO.com or Amazon?
Please use our links: LEGO.com • Amazon
Recent discussions • Categories • Privacy Policy • Brickset.com
Categories
15.7K

General

2.3K

Brickset

13.8K

Shopping

1.2K

Other
Brickset.com is a participant in the Amazon Services LLC Associates Program, the Amazon.com.ca, Inc. Associates Program and the Amazon EU Associates Programme, which are affiliate advertising programs designed to provide a means for sites to earn advertising fees by advertising and linking to Amazon.
As an Amazon Associate we earn from qualifying purchases.