Shopping at LEGO or Amazon?
Please use our links:
LEGO.com
•
Amazon
As an Amazon Associate we earn from qualifying purchases.
Blocks issue 88 out now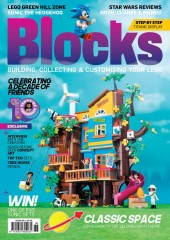 Here's the press release for the latest issue of Blocks Magazine:
Blocks magazine Issue 88 marks the 10th anniversary of LEGO Friends with the theme's creators in an exclusive interview illustrated with never-before-seen concept art, design sketches and more.
Issue 88 is available worldwide as a single issue or as part of a subscription at blocksmag.com and will be in UK stores from February 3. Everyone who subscribes by March 2 will be in with a chance of winning one of five 21331 Sonic the Hedgehog - Green Hill Zone sets!
Whether you're a diehard LEGO Friends fan or someone who picks up the occasional set, the 10th anniversary interview feature provides unparalleled insight into the design and development process. Senior Design Director Rosario Costa and Creative Director Fenella Blaize Charity share stories that have never been told before – you'll learn what the original codename was, why the minifigure didn't make the cut and how the theme caught the eye of the entire design organisation.
© 2022 Brickset.com. Republication prohibited without prior permission.
Shopping at LEGO.com or Amazon?
Please use our links: LEGO.com • Amazon
Recent discussions • Categories • Privacy Policy • Brickset.com
Categories
1

Announcements

14.2K

General

15.9K

Shopping

2.2K

Brickset

1.2K

Other
Brickset.com is a participant in the Amazon Services LLC Associates Program, the Amazon.com.ca, Inc. Associates Program and the Amazon EU Associates Programme, which are affiliate advertising programs designed to provide a means for sites to earn advertising fees by advertising and linking to Amazon.
As an Amazon Associate we earn from qualifying purchases.