Shopping at LEGO or Amazon?
Please use our links:
LEGO.com
•
Amazon
As an Amazon Associate we earn from qualifying purchases.
2022 Luigi's Mansion sets officially revealed!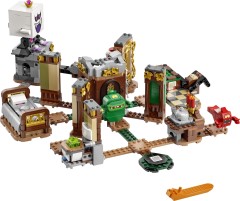 Appropriately for Halloween, LEGO has today announced three new additions to the Super Mario theme! They take inspiration from the popular Luigi's Mansion series, which follows Luigi capturing ghosts.
New LEGO Super Mario theme to hit shelves 1st January 2022 for some ghost-catching fun… Luigi's Mansion is coming to fans in the form of three new sets: Luigi's Mansion Lab and Poltergust Expansion Set, Luigi's Mansion Entryway Expansion Set, and Luigi's Mansion Haunt-and-Seek Expansion Set.
LEGO Super Mario fans, rejoice! The LEGO Group has just announced its latest edition to the popular LEGO Super Mario universe; this time treating fans to three new Expansion Sets all wrapped in the iconic Nintendo series, Luigi's Mansion. Fans will be introduced to fun new features designed to inspire creative play, featuring fan favourites King Boo, Polterpup, Bogmire, Toad, Boo and many more charming characters from the Luigi's Mansion series.
View the continued press release and set images after the break...
© 2021 Brickset.com. Republication prohibited without prior permission.
Shopping at LEGO.com or Amazon?
Please use our links: LEGO.com • Amazon
Recent discussions • Categories • Privacy Policy • Brickset.com
Categories
15K

General

2.3K

Brickset

13.7K

Shopping

1.2K

Other
Brickset.com is a participant in the Amazon Services LLC Associates Program, the Amazon.com.ca, Inc. Associates Program and the Amazon EU Associates Programme, which are affiliate advertising programs designed to provide a means for sites to earn advertising fees by advertising and linking to Amazon.
As an Amazon Associate we earn from qualifying purchases.