Shopping at LEGO or Amazon?
Please use our links:
LEGO.com
•
Amazon
As an Amazon Associate we earn from qualifying purchases.
Interview with Fan and Model Designers of 21330 Home Alone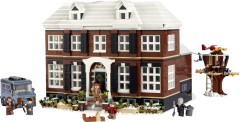 Representatives from several Fan Media outlets recently participated in a roundtable interview with the design team for 21330 Home Alone.
We spoke with the fan designer, Alex Storozhuk, alongside the set designers, Antica Bracanov and Enrique Belmonte Beixer, and graphic designer, Kirsten Bay Nielsen.
Brickset: Upon receiving 21330 Home Alone, I was pleasantly surprised by how much was retained from the original LEGO Ideas project. Were you surprised by this, Alex?
Alex: Definitely! When my project reached the review stage, I was concerned that it might be too large for approval because the model contained nearly 3000 pieces. When I was told that the revised model included almost 4000 pieces, you can imagine how surprised and thrilled I was! Increasing the piece count was worthwhile though because the designers have included even more references and Easter eggs than I had originally.
© 2021 Brickset.com. Republication prohibited without prior permission.
Shopping at LEGO.com or Amazon?
Please use our links: LEGO.com • Amazon
Recent discussions • Categories • Privacy Policy • Brickset.com
Categories
15K

General

2.3K

Brickset

13.7K

Shopping

1.2K

Other
Brickset.com is a participant in the Amazon Services LLC Associates Program, the Amazon.com.ca, Inc. Associates Program and the Amazon EU Associates Programme, which are affiliate advertising programs designed to provide a means for sites to earn advertising fees by advertising and linking to Amazon.
As an Amazon Associate we earn from qualifying purchases.