Shopping at LEGO or Amazon?
Please use our links:
LEGO.com
•
Amazon
As an Amazon Associate we earn from qualifying purchases.
Build a MOC: 1 year on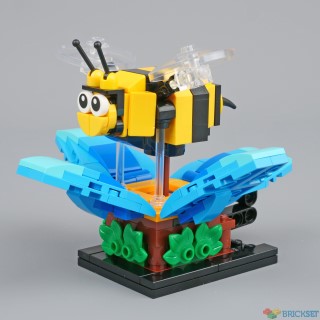 It's been a year since we introduced Build a MOC, a website where you can buy kits of other people's MOCs and make your MOCs available to others, too.
It was set up by two Spanish AFOLs, Gerardo and Alvaro, and following a successful year of trading, has now expanded to a staff of five.
Geraldo tell me that "Last Christmas, we had huge delays in shipping due to unreliable companies and COVID, so we had to switch to UPS. We also found that too many errors were slipping through for us to be comfortable, so we hired someone to double-check and sort every kit before we send them out.
To celebrate a significant milestone of completing 1,000 orders recently the company is running a promotion: every new order placed before the end of November will be entered into a draw for one €100 voucher and three €50 vouchers.
Geraldo has sent me some of their recent additions, of which this flying bee kinetic structure by JK Brickworks is one.
© 2021 Brickset.com. Republication prohibited without prior permission.
Shopping at LEGO.com or Amazon?
Please use our links: LEGO.com • Amazon
Recent discussions • Categories • Privacy Policy • Brickset.com
Categories
14.8K

General

2.3K

Brickset

13.7K

Shopping

1.2K

Other
Brickset.com is a participant in the Amazon Services LLC Associates Program, the Amazon.com.ca, Inc. Associates Program and the Amazon EU Associates Programme, which are affiliate advertising programs designed to provide a means for sites to earn advertising fees by advertising and linking to Amazon.
As an Amazon Associate we earn from qualifying purchases.