Shopping at LEGO or Amazon?
Please use our links:
LEGO.com
•
Amazon
As an Amazon Associate we earn from qualifying purchases.
Could minifigures return for May the Fourth?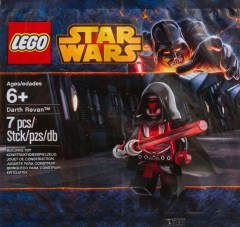 May the Fourth promotions were historically accompanied by exclusive minifigures, although those have been supplanted by brick-built droids and vignettes more recently.
During our recent discussion with Jens Kronvold Frederiksen and Michael Lee Stockwell from the LEGO Star Wars design team, James Burns from Jedi News and myself asked about this change to May the Fourth promotions.
Brickset: Some debate has surrounded the introduction of vignettes for May the Fourth and the apparent discontinuation of exclusive minifigures. What prompted that change?
Jens: Basically, it was about trying something new and different. We have observed some mixed reactions resulting from the vignettes but continuous innovation is so important and we thought the vignettes would be a brilliant idea, particularly for the twentieth anniversary of LEGO Star Wars when the first set was launched.
© 2021 Brickset.com. Republication prohibited without prior permission.
Shopping at LEGO.com or Amazon?
Please use our links: LEGO.com • Amazon
Recent discussions • Categories • Privacy Policy • Brickset.com
Categories
15.7K

General

2.3K

Brickset

13.8K

Shopping

1.2K

Other
Brickset.com is a participant in the Amazon Services LLC Associates Program, the Amazon.com.ca, Inc. Associates Program and the Amazon EU Associates Programme, which are affiliate advertising programs designed to provide a means for sites to earn advertising fees by advertising and linking to Amazon.
As an Amazon Associate we earn from qualifying purchases.