Shopping at LEGO or Amazon?
Please use our links:
LEGO.com
•
Amazon
As an Amazon Associate we earn from qualifying purchases.
What has happened to Battle Packs?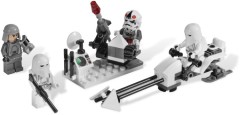 Brickset has been attending the annual Fan Media Days, held virtually this year, during the last couple of days. We accordingly had an opportunity to conduct several designer interviews on Friday.
These included an interview with two LEGO Star Wars designers, Jens Kronvold Frederiksen and Michael Lee Stockwell. While some information cannot be published until later this year, we did ask one burning question that could be answered now, relating to the status of Battle Packs. An extract from our interview follows:
Brickset: Battle Packs were noticeably absent from the Star Wars range during January, for the first time since 2007. What has happened to them?
Michael: Nothing!
Jens: This is something which is actually quite difficult to explain. It is not always up to us what the range will contain or which products are required on shelves. Omitting the Battle Packs during January was not a deliberate choice and is certainly not an indication that Battle Packs are dead or never going to happen again. We just did not launch any at that time.
© 2021 Brickset.com. Republication prohibited without prior permission.
Shopping at LEGO.com or Amazon?
Please use our links: LEGO.com • Amazon
Recent discussions • Categories • Privacy Policy • Brickset.com
Categories
15.7K

General

2.3K

Brickset

13.8K

Shopping

1.2K

Other
Brickset.com is a participant in the Amazon Services LLC Associates Program, the Amazon.com.ca, Inc. Associates Program and the Amazon EU Associates Programme, which are affiliate advertising programs designed to provide a means for sites to earn advertising fees by advertising and linking to Amazon.
As an Amazon Associate we earn from qualifying purchases.