Shopping at LEGO or Amazon?
Please use our links:
LEGO.com
•
Amazon
As an Amazon Associate we earn from qualifying purchases.
LEGO releases first fan-developed short film from LEGO World Builder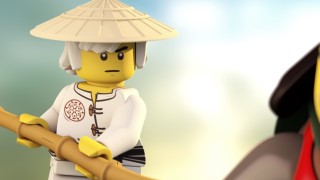 You may recall that last year we introduced LEGO World Builder, a story development platform at which fans can pitch creative ideas to the LEGO Group. We also published a follow-up article written by Brickset member GoldenNinja3000 that explained how it worked.
In it, he mentioned that he had one of his ideas purchased by the company and, now, eight months later, it has come to fruition. In this article he shares his experience of using the platform and reveals what happened next:
Hi, I'm GoldenNinja3000, and I'm a LEGO World Builder moderator as well as the first person to have their idea purchased and developed by the LEGO Group!
Today, LEGO released "Golden Hour", an animated short film based on my "Ninjago: What If…?" idea that was published during the platform's beta testing stage, several months before I became a moderator. I'm here to talk about the production process and hopefully drum up some more interest in World Builder, since it's a great opportunity for fans to work with LEGO!
© 2021 Brickset.com. Republication prohibited without prior permission.
Shopping at LEGO.com or Amazon?
Please use our links: LEGO.com • Amazon
Recent discussions • Categories • Privacy Policy • Brickset.com
Categories
15.7K

General

2.3K

Brickset

13.8K

Shopping

1.2K

Other
Brickset.com is a participant in the Amazon Services LLC Associates Program, the Amazon.com.ca, Inc. Associates Program and the Amazon EU Associates Programme, which are affiliate advertising programs designed to provide a means for sites to earn advertising fees by advertising and linking to Amazon.
As an Amazon Associate we earn from qualifying purchases.