Shopping at LEGO or Amazon?
Please use our links:
LEGO.com
•
Amazon
As an Amazon Associate we earn from qualifying purchases.
[US] Meet the LEGO Masters series 2 contestants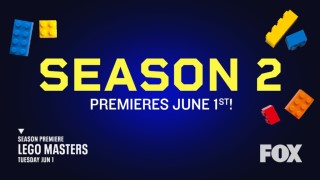 Season two of the US version of LEGO Masters commences on June 1st and once again MeganL will be bringing you extensive coverage both before and during the season.
Here's an initial press release:
Bringing imagination, design and creativity to life, Season Two of LEGO MASTERS — hosted and executive-produced by Will Arnett — premieres Tuesday, June 1 (8:00-9:00 PM ET/PT), when 12 new pairs of LEGO enthusiasts go head-to-head, with infinite possibilities and an unlimited supply of LEGO bricks.
The new duos are set to compete against each other in even more ambitious brick-building challenges – including an earthquake tower challenge, a demolition derby, a LEGO fashion show and more – to be crowned the country's most talented amateur LEGO builders.
In each episode, Arnett, alongside expert Brickmasters and LEGO employees Amy Corbett and Jamie Berard, will encourage the builders, introduce incredible challenges and put their creativity and skills to the test. The competing pairs who impress the Brickmasters the most will progress to the next round, until the finale, during which the top teams will face off for a $100,000 cash prize, the ultimate LEGO trophy and the grand title of LEGO MASTERS.
Meet the 24 LEGO MASTERS Contestants after the break:
© 2021 Brickset.com. Republication prohibited without prior permission.
Shopping at LEGO.com or Amazon?
Please use our links: LEGO.com • Amazon
Recent discussions • Categories • Privacy Policy • Brickset.com
Categories
15.7K

General

2.3K

Brickset

13.8K

Shopping

1.2K

Other
Brickset.com is a participant in the Amazon Services LLC Associates Program, the Amazon.com.ca, Inc. Associates Program and the Amazon EU Associates Programme, which are affiliate advertising programs designed to provide a means for sites to earn advertising fees by advertising and linking to Amazon.
As an Amazon Associate we earn from qualifying purchases.