Shopping at LEGO or Amazon?
Please use our links:
LEGO.com
•
Amazon
As an Amazon Associate we earn from qualifying purchases.
LEGO VIDIYO officially announced!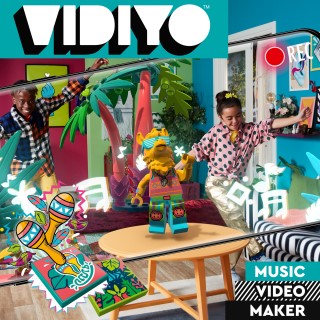 LEGO announced an intriguing partnership with Universal Music Group during April, 2020 and the result, VIDIYO, has now been revealed:
Designed to help children unleash their creativity, LEGO VIDIYO lets you direct, produce, star in and share unique music videos in a safe social environment
The LEGO Group and Universal Music Group (UMG) have today announced LEGO VIDIYO, a playful and innovative music video maker experience designed to celebrate and expand children's creativity and passion for music. LEGO VIDIYO is a brand-new way to play that helps children dream big by directing, producing, starring in, and sharing their own music videos, using tracks from across the globe, led by chart hits from UMG's unrivalled artists.
LEGO VIDIYO is aimed at children aged 7-10, providing a safe universe where they can traverse the worlds of physical and digital play. The platform lets children experiment with play and music, a powerful combination that's fundamental to their development, extending their ability to connect with other people emotionally and creatively.
© 2021 Brickset.com. Republication prohibited without prior permission.
Shopping at LEGO.com or Amazon?
Please use our links: LEGO.com • Amazon
Recent discussions • Categories • Privacy Policy • Brickset.com
Categories
15.7K

General

2.3K

Brickset

13.8K

Shopping

1.2K

Other
Brickset.com is a participant in the Amazon Services LLC Associates Program, the Amazon.com.ca, Inc. Associates Program and the Amazon EU Associates Programme, which are affiliate advertising programs designed to provide a means for sites to earn advertising fees by advertising and linking to Amazon.
As an Amazon Associate we earn from qualifying purchases.