Shopping at LEGO or Amazon?
Please use our links:
LEGO.com
•
Amazon
As an Amazon Associate we earn from qualifying purchases.
Medieval Blacksmith revealed!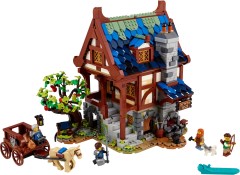 Here's the press release for the 33rd LEGO Ideas set:
21325 Medieval Blacksmith, 2164 pieces

149.99 USD/ 199.99 CAD 146.99 EUR / 134.99 GBP /249.99 AUD

Available from 1st February
LEGO Ideas reveals medieval set starring the unsung hero of the Middle Ages – the honourable blacksmith
LEGO Ideas has taken a leaf out of the history books with the design of its latest set, a charming Medieval Blacksmith's house. The new set is based on an original design by an avid LEGO builder, which achieved over 10,000 votes from LEGO fans worldwide – giving it the green light to go into production.
LEGO superfan Clemens Fiedler originally submitted the concept to LEGO Ideas; a LEGO initiative that takes new ideas that have been imagined and voted for by fans and turns them into reality. The LEGO Ideas Medieval Blacksmith set harks back to a time when cottage industries and artisans were the cornerstone of society and was brought to life by LEGO designers Wes Talbott and Austin Carlson.
© 2021 Brickset.com. Republication prohibited without prior permission.
Shopping at LEGO.com or Amazon?
Please use our links: LEGO.com • Amazon
Recent discussions • Categories • Privacy Policy • Brickset.com
Categories
15.7K

General

2.3K

Brickset

13.8K

Shopping

1.2K

Other
Brickset.com is a participant in the Amazon Services LLC Associates Program, the Amazon.com.ca, Inc. Associates Program and the Amazon EU Associates Programme, which are affiliate advertising programs designed to provide a means for sites to earn advertising fees by advertising and linking to Amazon.
As an Amazon Associate we earn from qualifying purchases.