Shopping at LEGO or Amazon?
Please use our links:
LEGO.com
•
Amazon
As an Amazon Associate we earn from qualifying purchases.
Bleak new year in prospect for UK LEGO fans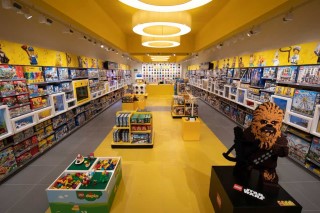 The UK government has just announced that most of the country will enter tier 4 lockdown on Thursday. Almost all brand stores are in now tier 4 areas, or their equivalent in Wales and Scotland, which means that very few will be able to open New Year's Day. Although we might consider them as 'essential' I don't think the government would agree.
Furthermore, LEGO is not currently shipping orders to the country without paying a hefty premium, following problems at the channel ports last week. The LEGO.com website is displaying a message stating that "although the EU border has reopened, we're still unable to send any Standard Delivery orders to the UK and Ireland until DPD resumes service. Express delivery is still an option but will likely take longer than normal to be delivered."
Of course there are more important things to worry about at the moment but with LEGO providing a much-needed respite from the boredom of lockdown and barrage of depressing news, this is a problem we could do without. Still, it could be worse: at least our imports from the continent won't be subject to tariffs next year as well...
© 2020 Brickset.com. Republication prohibited without prior permission.
Shopping at LEGO.com or Amazon?
Please use our links: LEGO.com • Amazon
Recent discussions • Categories • Privacy Policy • Brickset.com
Categories
15.7K

General

2.3K

Brickset

13.8K

Shopping

1.2K

Other
Brickset.com is a participant in the Amazon Services LLC Associates Program, the Amazon.com.ca, Inc. Associates Program and the Amazon EU Associates Programme, which are affiliate advertising programs designed to provide a means for sites to earn advertising fees by advertising and linking to Amazon.
As an Amazon Associate we earn from qualifying purchases.