Shopping at LEGO or Amazon?
Please use our links:
LEGO.com
•
Amazon
As an Amazon Associate we earn from qualifying purchases.
Review: 60290 Skate Park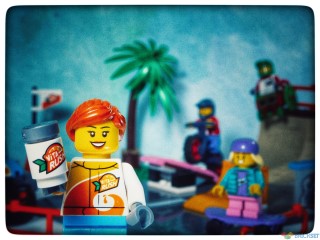 195-piece set 60290 Skate Park is part of the new 2021 CITY range and also features a small selection of the pieces from the new road system. For more coverage of these exciting and potentially revolutionary parts, please see Huw's recent review of 60304 Road Plates and benbacardi's excellent in-depth look at 60292 Town Centre.
I think the name 'Skate Park' is a bit of a misnomer only because this is a set that features minifigures engaged in other urban sports activities too: Biking (possibly intended to represent freestyle BMX) and Extreme Wheelchair sports.
The most recent CITY and CREATOR sets to feature skateboard halfpipes and big jumps were 60200 Capital City and 31081 modular skate house both from 2018. However, sets featuring a skateboard theme have been much more prevalent in the friends theme… I will admit to very much liking 'friends' sets and owning a few but knowing very little about the contents and subject matter of the overwhelming number of them.
The last proper dedicated skateboarding sets were part of the 'sports' gravity games theme all the way back in 2003, but I personally prefer the half pipe set 6738 Skateboard Challenge from the previous year.
We'll get to the review properly in just a moment, but first, a word from our sponsors...
© 2020 Brickset.com. Republication prohibited without prior permission.
Shopping at LEGO.com or Amazon?
Please use our links: LEGO.com • Amazon
Recent discussions • Categories • Privacy Policy • Brickset.com
Categories
15.7K

General

2.3K

Brickset

13.8K

Shopping

1.2K

Other
Brickset.com is a participant in the Amazon Services LLC Associates Program, the Amazon.com.ca, Inc. Associates Program and the Amazon EU Associates Programme, which are affiliate advertising programs designed to provide a means for sites to earn advertising fees by advertising and linking to Amazon.
As an Amazon Associate we earn from qualifying purchases.