Shopping at LEGO or Amazon?
Please use our links:
LEGO.com
•
Amazon
As an Amazon Associate we earn from qualifying purchases.
Holiday gift guide: NES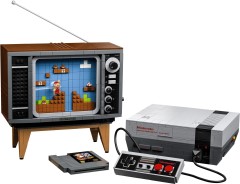 This is our last holiday gift guide article. Thank you to everyone who contributed to the series over the last month. I hope you enjoyed reading them and perhaps took inspiration from them, too.
As promised, everyone who contributed has been entered into a prize draw to win a Brickset goodie bag and this morning I drew five names out of the hat. Find out who's won at the end of this article.
First though, Oregondete81 takes us back in time to Christmas 1986 in a heartwarming tale, parts of which I am sure will be familiar to many...
December 24th, 1986
You lay in bed starring at your A-team poster hoping that sleep will finally take you. You know sleep is the only thing that will save you from being trapped in time as the clock seems to barely move. But the excitement keeps you awake. Will you get the ECTO you asked for? Will you finally get to add Skeletor to your collection?
You hope and pray your mom didn't fall for the Teddy Ruxpin ads. Finally, exhaustion overcomes you and without knowing it you slip into a deep sleep.
© 2020 Brickset.com. Republication prohibited without prior permission.
Shopping at LEGO.com or Amazon?
Please use our links: LEGO.com • Amazon
Recent discussions • Categories • Privacy Policy • Brickset.com
Categories
15.7K

General

2.3K

Brickset

13.8K

Shopping

1.2K

Other
Brickset.com is a participant in the Amazon Services LLC Associates Program, the Amazon.com.ca, Inc. Associates Program and the Amazon EU Associates Programme, which are affiliate advertising programs designed to provide a means for sites to earn advertising fees by advertising and linking to Amazon.
As an Amazon Associate we earn from qualifying purchases.