Shopping at LEGO or Amazon?
Please use our links:
LEGO.com
•
Amazon
As an Amazon Associate we earn from qualifying purchases.
Next year's modular building revealed!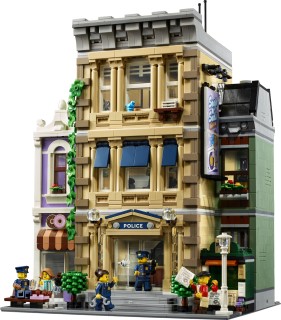 LEGO unveiled next year's modular building during its Black Friday live-stream event on YouTube, an hour late as it turned out. Here's all you need to know:
10278 Police Station

2,923 pieces, rated 18+

€179.99 / £169.99 / $199.99 / AU$299.99 / CA$269.99

Available from 1st January 2021
The LEGO Group has announced an amazingly detailed new addition to its Modular Buildings Collection with the unveiling of the LEGO Police Station.
Hiding a wealth of features behind its impressive facade, the eye-catching new model consists of three floors and a modular structure that allows LEGO fans to fully explore the intricate interiors and increase the building's height.
Designed as a centrepiece to a bustling LEGO neighbourhood, the LEGO Police Station also comes complete with a doughnut shop brimming with sweet treats and a newspaper kiosk, as well as five minifigures including a 1940s-inspired police officer for ample storytelling possibilities.
© 2020 Brickset.com. Republication prohibited without prior permission.
Shopping at LEGO.com or Amazon?
Please use our links: LEGO.com • Amazon
Recent discussions • Categories • Privacy Policy • Brickset.com
Categories
15.7K

General

2.3K

Brickset

13.8K

Shopping

1.2K

Other
Brickset.com is a participant in the Amazon Services LLC Associates Program, the Amazon.com.ca, Inc. Associates Program and the Amazon EU Associates Programme, which are affiliate advertising programs designed to provide a means for sites to earn advertising fees by advertising and linking to Amazon.
As an Amazon Associate we earn from qualifying purchases.