Shopping at LEGO or Amazon?
Please use our links:
LEGO.com
•
Amazon
As an Amazon Associate we earn from qualifying purchases.
Blocks magazine announces new editor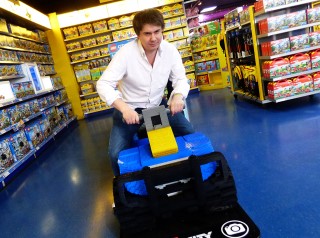 Since its debut in 2014, Blocks Magazine has been going from strength to strength. There have been numerous personnel changes over the years and a change of ownership last year.
It's currently the best its ever been and that's largely thanks the current line-up of editor Chris Wharfe, deputy editor Graham Hancock and USA editor Daniel Konstanski.
Chris and Graham are also involved with the Brick Fanatics website, where Graham held the position of editor until last month when the site announced that Chris was taking over that role.
Now, in an amusing turn of events, Graham has bagged Chris's old job to become editor of Blocks Magazine!
They are both great guys and I wish them the best of luck in their new roles. We'll be working closely with Graham in the future to help promote the magazine. If you've not yet taken out a subscription now would be a good time to do so: there's a lot of high quality content in it nowadays that you won't find elsewhere.
A press release has been issued, which you read after the break.
© 2020 Brickset.com. Republication prohibited without prior permission.
Shopping at LEGO.com or Amazon?
Please use our links: LEGO.com • Amazon
Recent discussions • Categories • Privacy Policy • Brickset.com
Categories
15.7K

General

2.3K

Brickset

13.8K

Shopping

1.2K

Other
Brickset.com is a participant in the Amazon Services LLC Associates Program, the Amazon.com.ca, Inc. Associates Program and the Amazon EU Associates Programme, which are affiliate advertising programs designed to provide a means for sites to earn advertising fees by advertising and linking to Amazon.
As an Amazon Associate we earn from qualifying purchases.