Shopping at LEGO or Amazon?
Please use our links:
LEGO.com
•
Amazon
As an Amazon Associate we earn from qualifying purchases.
How to spot a fake LEGO web store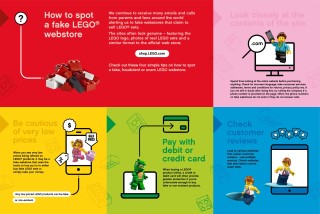 There has been a sharp rise in the number of fake websites cropping up recently purporting to sell LEGO for a fraction of its retail price, often advertised on Facebook. Regular readers here will be able to spot them a mile off but unfortunately many people have been fooled and were scammed.
Earlier in the year there were a couple that included 'brickset' in their domain name which prompted people to get in touch with us asking where their orders were, or why they'd been sent socks, or something else random. All we could do was tell them they'd been scammed and to cancel their credit card.
Anyway, LEGO has been reacting to reports of such sites and getting them closed down, although in many cases not before the scammers have ripped off a few unsuspecting buyers. Now, it is seeking to educate people to avoid them falling victim in the first place by producing an infographic 'How to spot fake LEGO website'.
So, distribute it to everyone you know and if you come across any such sites yourself, report them to LEGO Customer Services.
© 2020 Brickset.com. Republication prohibited without prior permission.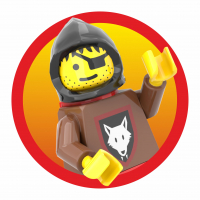 Shopping at LEGO.com or Amazon?
Please use our links: LEGO.com • Amazon
Recent discussions • Categories • Privacy Policy • Brickset.com
Categories
15.7K

General

2.3K

Brickset

13.8K

Shopping

1.2K

Other
Brickset.com is a participant in the Amazon Services LLC Associates Program, the Amazon.com.ca, Inc. Associates Program and the Amazon EU Associates Programme, which are affiliate advertising programs designed to provide a means for sites to earn advertising fees by advertising and linking to Amazon.
As an Amazon Associate we earn from qualifying purchases.