Shopping at LEGO or Amazon?
Please use our links:
LEGO.com
•
Amazon
As an Amazon Associate we earn from qualifying purchases.
Holiday gift guide: $100-200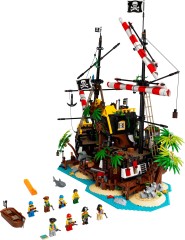 Today's recommendation comes courtesy of Cocoa and Mr_Hankey who both extol the virtues of one of the best sets of all time, 21322 Pirates of Barracuda Bay:
Cocoa:
Pirates of Barracuda Bay may just be the greatest set on the market. It truly is the ultimate LEGO experience for anyone who loves classic themes. It is hard to put in words just how enjoyable this set is. The island is vibrant, detailed, and simply huge! It just demands presence on a shelf.
The island's structures imply that the bay is a repurposed shipwreck, with folded sails and lots of bright green vegetation. I appreciate the little details that comprise the bay, including a small statue from LEGO Islanders and an array of palm trees.
But that's not all; the island's structures can be combined to become a large version of the classic 6285 Black Seas Barracuda. For an average LEGO fan, $200 is simply out of the range. And I completely get that. But compared to other sets at this price range, it is simply the best deal out there! You won't regret this purchase if this is your first large set, or just love LEGO Pirates.
© 2020 Brickset.com. Republication prohibited without prior permission.
Shopping at LEGO.com or Amazon?
Please use our links: LEGO.com • Amazon
Recent discussions • Categories • Privacy Policy • Brickset.com
Categories
15.7K

General

2.3K

Brickset

13.8K

Shopping

1.2K

Other
Brickset.com is a participant in the Amazon Services LLC Associates Program, the Amazon.com.ca, Inc. Associates Program and the Amazon EU Associates Programme, which are affiliate advertising programs designed to provide a means for sites to earn advertising fees by advertising and linking to Amazon.
As an Amazon Associate we earn from qualifying purchases.