Shopping at LEGO or Amazon?
Please use our links:
LEGO.com
•
Amazon
As an Amazon Associate we earn from qualifying purchases.
New Series: Building Community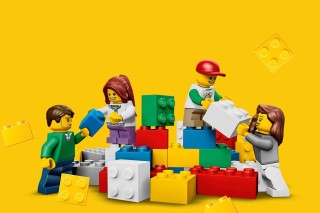 This year been challenging for many of us. Part of Brickset's response to the pandemic has been to run some extra article series, such as Meet a Member and Storage Solutions. Today, we're asking for your participation in our next series, Building Community (the double meaning is intentional).
I was chatting recently with Holly Webster (aka Holly Wachtman) - many of you may remember her LEGO Ideas project under review, or the interview she had with Huw last year. Over the course of that conversation I learned that Mel Brown (US LEGO Masters contestant) has worked with a local scholarship trust for a free LEGO camp for kids who don't have much access to LEGO. Holly is helping Mel plan and teach the program. She'll be sharing her experiences with that program in this series.
That got us thinking - how many programs like this are going on that not enough people hear about? I would never have known about Mel's program had I not talked with Holly.
Getting a regular dose of good news is something that many of us could use. Holly and I will bring you the stories of those using LEGO to make the world a better place in Building Community, and because everyone can use good news on a Monday, we'll publish new installments on Mondays.
LEGO has been sharing these kinds of good news stories, too. Our first article will be on a LUG that brings LEGO to seniors.
Do you know of someone or an organization who should be featured? See more details after the break.
© 2020 Brickset.com. Republication prohibited without prior permission.
Shopping at LEGO.com or Amazon?
Please use our links: LEGO.com • Amazon
Recent discussions • Categories • Privacy Policy • Brickset.com
Categories
15.7K

General

2.3K

Brickset

13.8K

Shopping

1.2K

Other
Brickset.com is a participant in the Amazon Services LLC Associates Program, the Amazon.com.ca, Inc. Associates Program and the Amazon EU Associates Programme, which are affiliate advertising programs designed to provide a means for sites to earn advertising fees by advertising and linking to Amazon.
As an Amazon Associate we earn from qualifying purchases.