Shopping at LEGO or Amazon?
Please use our links:
LEGO.com
•
Amazon
As an Amazon Associate we earn from qualifying purchases.
75292 Razor Crest renamed following trademark issue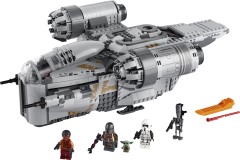 LEGO has had to rename the forthcoming Star Wars set 75292 The Mandalorian Bounty Hunter Transport due to a trademark issue.
Apparently, Lucasfilm does not own the trademark for the name Razor Crest, in Europe at least, which allowed German LEGO-compatible toy maker Modbrix to claim it back in January for its own, unlicensed, version of the spacecraft. StoneWars published a lot of well-researched information about this earlier in the month.
At first, it was thought that this would affect Europe only, but the product page at LEGO.com in the US and Canadian shops has been removed and is currently leading to a 404 which suggests a wider problem. In Europe, it's been reinstated with the revised name and description, which you can view after the break, and in Australia and New Zealand it's still called The Razor Crest.
It's interesting to note that the full URL of the set at LEGO.com is lego.com/en-gb/product/default-the-mandalorian-bounty-hunter-transport-au-the-razor-crest-nz-the-razor-crest-75292
This may have implications if you've pre-ordered it because Brick_t_in France has noticed that his order status is now 'contact customer services'.
Given that the name of the craft is printed on the boxes, LEGO has presumably needed to re-box at least some of the sets produced so far and I would not be surprised if there's a delay in shipment, although LEGO.com still claims it'll be available on September 1st. What a mess...
© 2020 Brickset.com. Republication prohibited without prior permission.
Shopping at LEGO.com or Amazon?
Please use our links: LEGO.com • Amazon
Recent discussions • Categories • Privacy Policy • Brickset.com
Categories
15.7K

General

2.3K

Brickset

13.8K

Shopping

1.2K

Other
Brickset.com is a participant in the Amazon Services LLC Associates Program, the Amazon.com.ca, Inc. Associates Program and the Amazon EU Associates Programme, which are affiliate advertising programs designed to provide a means for sites to earn advertising fees by advertising and linking to Amazon.
As an Amazon Associate we earn from qualifying purchases.