Shopping at LEGO or Amazon?
Please use our links:
LEGO.com
•
Amazon
As an Amazon Associate we earn from qualifying purchases.
V-22 Osprey on eBay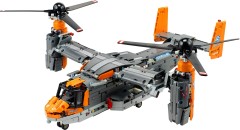 The cancellation of 42113 Bell-Boeing V-22 Osprey at the last minute, and after it has been so widely distributed to small retailers, has resulted in eBay becoming awash with them at exorbitant prices as sellers hope to make a quick buck.
The majority of them seem to be from sellers in the UK and New Zealand, who have set 'buy it now' prices in excess of £/€/$1000, and it seems most auctions are reaching that sort of sum as well. It's difficult to know whether prices will tumble after initial demand has been sated, or whether there are so few of them in circulation that prices will continue to rise.
I've noticed that there seems to be two types of seller: scalpers who have purchased them cheaply and hope to make a vast profit by flipping them quickly, and small toy stores who received them directly from LEGO and who have now realised they are sitting on a gold mine.
If you're going to buy one, try to buy from the latter. At least then you'll be helping a shop stay afloat during difficult trading conditions. I purchased one last week, from a small toy shop in Sheringham, UK, for not quite the sum they are going for now, but not far off. I will review it as soon as it arrives.
If you're in the market for one you can use our eBay search tool to find them in your vicinity, and if you want to try to persuade LEGO to release the set after all you can sign this petition at Change.org although personally I think it's futile.
© 2020 Brickset.com. Republication prohibited without prior permission.
Shopping at LEGO.com or Amazon?
Please use our links: LEGO.com • Amazon
Recent discussions • Categories • Privacy Policy • Brickset.com
Categories
1

Announcements

14.4K

General

16K

Shopping

2.2K

Brickset

1.2K

Other
Brickset.com is a participant in the Amazon Services LLC Associates Program, the Amazon.com.ca, Inc. Associates Program and the Amazon EU Associates Programme, which are affiliate advertising programs designed to provide a means for sites to earn advertising fees by advertising and linking to Amazon.
As an Amazon Associate we earn from qualifying purchases.