Shopping at LEGO or Amazon?
Please use our links:
LEGO.com
•
Amazon
As an Amazon Associate we earn from qualifying purchases.
LEGO Ideas launches fan vote for a new LEGO book aimed at AFOLs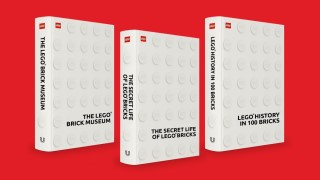 Here's something interesting and different: A chance to decide which book, to be authored by Daniel Konstanski, you'd like to have published.
Daniel is a knowledgeable and well-respected AFOL who writes articles for Blocks magazine, including recently an excellent and comprehensive history of the LEGO company.
You can read the press release below but, essentially, it sounds as if he has pitched three ideas for books about LEGO parts to the company, and we now have the opportunity to vote for the one we like the sound of the most on the LEGO Ideas platform.
The titles -- 'Brick Museum', '100 bricks that built LEGO history', and 'Secret life of LEGO bricks' -- don't give much of a clue about how they would differ but a brief synopsis should be available on the voting page.
Here's the press release:
LEGO Publishing, a division of the LEGO Group, is excited to announce a public vote on LEGO Ideas to choose the direction for a new book celebrating the rich history of the iconic LEGO brick, made in collaboration with AFOLs.
© 2020 Brickset.com. Republication prohibited without prior permission.
Shopping at LEGO.com or Amazon?
Please use our links: LEGO.com • Amazon
Recent discussions • Categories • Privacy Policy • Brickset.com
Categories
1

Announcements

14.4K

General

16K

Shopping

2.2K

Brickset

1.2K

Other
Brickset.com is a participant in the Amazon Services LLC Associates Program, the Amazon.com.ca, Inc. Associates Program and the Amazon EU Associates Programme, which are affiliate advertising programs designed to provide a means for sites to earn advertising fees by advertising and linking to Amazon.
As an Amazon Associate we earn from qualifying purchases.