Shopping at LEGO or Amazon?
Please use our links:
LEGO.com
•
Amazon
As an Amazon Associate we earn from qualifying purchases.
LEGO Ideas 21323 Grand Piano revealed!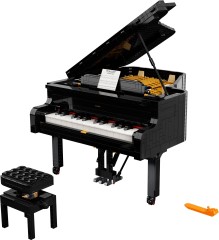 The next LEGO Ideas set, based on Donny Chen's Playable LEGO Piano project, is being launched on August 1st, and it looks to be very faithful to his original submission.
Here's all you need to know:
21323 Grand Piano, 3,662 pieces
US $349.99 / CA $449.99 / €349.99 / £319.99 / 2699.0DKK
Build the first-ever playable LEGO Grand Piano!
Do you have a passion for music? Do you like to relax by focusing on a fun, hands-on project in your free time? If so, this incredible LEGO Ideas Grand Piano model kit (21323) is just the creative activity for you.
Feel the pride of building a sophisticated, brick-built version of a concert grand piano that you can actually play music with! Recreate the hammer action of each piano key, the moving pedal and authentic details such as the propped-open top lid and fallboard. Turn on the motor and then you are all set to play wonderful music – select user play on the free LEGO Powered Up app to play the notes yourself or activate auto play and just listen.
© 2020 Brickset.com. Republication prohibited without prior permission.
Shopping at LEGO.com or Amazon?
Please use our links: LEGO.com • Amazon
Recent discussions • Categories • Privacy Policy • Brickset.com
Categories
1

Announcements

14.4K

General

16K

Shopping

2.2K

Brickset

1.2K

Other
Brickset.com is a participant in the Amazon Services LLC Associates Program, the Amazon.com.ca, Inc. Associates Program and the Amazon EU Associates Programme, which are affiliate advertising programs designed to provide a means for sites to earn advertising fees by advertising and linking to Amazon.
As an Amazon Associate we earn from qualifying purchases.