Shopping at LEGO or Amazon?
Please use our links:
LEGO.com
•
Amazon
As an Amazon Associate we earn from qualifying purchases.
Official: Technic Bell-Boeing V-22 Osprey cancelled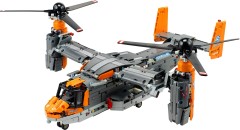 Here's the official statement from LEGO:
"The LEGO Technic Bell Boeing V-22 Osprey was designed to highlight the important role the aircraft plays in search and rescue efforts.
"While the set clearly depicts how a rescue version of the plane might look, the aircraft is only used by the military. We have a long-standing policy not to create sets which feature real military vehicles, so it has been decided not to proceed with the launch of this product.
"We appreciate that some fans who were looking forward to this set may be disappointed, but we believe it's important to ensure that we uphold our brand values."
So many people must have been involved in the development of the set, from designers, marketers, license negotiators and so on, plus the management chains above them. Why did nobody question whether it was a good idea to make it until now, 2 weeks before it was supposed to be launched? The brand values that are being upheld at this late stage must surely be well known to everyone involved, I'd have thought?
Frankly, it's all very embarrassing for the company...
I'm not going to allow comments on this article because they got a bit out of hand on yesterday's, so instead you'll find a poll after the break with which you can let us know what you think of the decision.
As a Technic fan, I'm disappointed that it's not being released, particularly as it was going to provide us with a long-overdue Powered Up Battery box. I can understand the decision to cancel, but not the timing of it!
© 2020 Brickset.com. Republication prohibited without prior permission.
Shopping at LEGO.com or Amazon?
Please use our links: LEGO.com • Amazon
Recent discussions • Categories • Privacy Policy • Brickset.com
Categories
1

Announcements

14.4K

General

16K

Shopping

2.2K

Brickset

1.2K

Other
Brickset.com is a participant in the Amazon Services LLC Associates Program, the Amazon.com.ca, Inc. Associates Program and the Amazon EU Associates Programme, which are affiliate advertising programs designed to provide a means for sites to earn advertising fees by advertising and linking to Amazon.
As an Amazon Associate we earn from qualifying purchases.