Shopping at LEGO or Amazon?
Please use our links:
LEGO.com
•
Amazon
As an Amazon Associate we earn from qualifying purchases.
Storage solutions: kirkbauer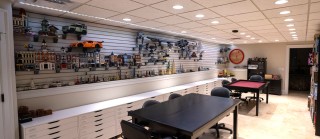 Kirk, aka kirkbauer, shows us an excellent way to display sets using slatwall, which is more usually seen in shops:
My story is a bit unusual. I had very little LEGO growing up, and what I had was very oriented towards young children. So there were no dark ages for me. But when 21309 NASA Apollo Saturn V was released I thought it was the coolest thing I had ever seen. I quickly bought it and built it and loved it.
That's the first time I really understood that LEGO made products that looked like real things, and as an adult with little imagination I prefer that. I went on a spending streak and picked up lots of sets that reproduced real things, then started getting modular buildings, then even more. In my typical fashion I went a bit crazy and had to turn our guest room into a LEGO room. This also gave me the opportunity to set up a good LEGO table for my two daughters who were at the perfect age to start getting into LEGO.
© 2020 Brickset.com. Republication prohibited without prior permission.
Shopping at LEGO.com or Amazon?
Please use our links: LEGO.com • Amazon
Recent discussions • Categories • Privacy Policy • Brickset.com
Categories
1

Announcements

14.4K

General

16K

Shopping

2.2K

Brickset

1.2K

Other
Brickset.com is a participant in the Amazon Services LLC Associates Program, the Amazon.com.ca, Inc. Associates Program and the Amazon EU Associates Programme, which are affiliate advertising programs designed to provide a means for sites to earn advertising fees by advertising and linking to Amazon.
As an Amazon Associate we earn from qualifying purchases.