Shopping at LEGO or Amazon?
Please use our links:
LEGO.com
•
Amazon
As an Amazon Associate we earn from qualifying purchases.
Storage solutions: Baldarek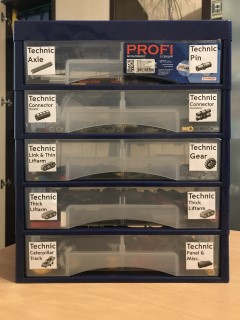 Baldarek in Russia shows how to store your LEGO on a budget:
The first few submissions in this series of articles set what I consider to be a very high bar, so I'm a bit hesitant to follow them with my relatively modest collection and my, er, not exactly fancy-looking storage solution. Nevertheless, I think it would be interesting to take a look at a more low-budget take on LEGO storage.
I've been a fan of LEGO for as long as I can remember, but it has always been a very expensive hobby for me. As a TFOL, I realised that I need to keep my collection organised, but I was reluctant to spend too much on fancy containers and drawers, preferring instead to save up for more LEGO sets.
However, collecting LEGO meant that I had no shortage of cardboard boxes, so with the use of some sticky tape, glue, and a complete lack of DIY skills I was able to make my own storage solutions. Many years later, as an AFOL emerging from my LEGO 'dark age', I find myself still relying on those clunky homemade solutions a lot. They may look crude, but you know what they say, "if it looks stupid but it works..."
© 2020 Brickset.com. Republication prohibited without prior permission.
Shopping at LEGO.com or Amazon?
Please use our links: LEGO.com • Amazon
Recent discussions • Categories • Privacy Policy • Brickset.com
Categories
15.7K

General

2.3K

Brickset

13.8K

Shopping

1.2K

Other
Brickset.com is a participant in the Amazon Services LLC Associates Program, the Amazon.com.ca, Inc. Associates Program and the Amazon EU Associates Programme, which are affiliate advertising programs designed to provide a means for sites to earn advertising fees by advertising and linking to Amazon.
As an Amazon Associate we earn from qualifying purchases.