Shopping at LEGO or Amazon?
Please use our links:
LEGO.com
•
Amazon
As an Amazon Associate we earn from qualifying purchases.
Storage Solutions: JukeLimited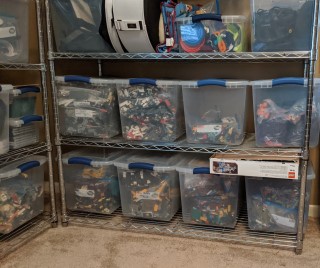 Juke, aka JukeLimited, shows how he stores his collection in Arkansas:
As the youngest of four kids, Lego sets were good (though expensive) toys for my parents to use to occupy us. We all seemed to enjoy the same themes and could rebuild the same collection of sets all day long, and these lovely plastic bricks last quite a long time if you care for them (and don't lose pieces in the carpet!).
So, while we didn't have every set we wanted, new ones were picked up occasionally and now the family collection has grown quite large, at least for our standards. I have used one of the fantastic user-defined collection flags in Brickset to mark this shared family collection of sets that are still at my parents' house.
A saved query fetches sets with that flag; I have not marked them as owned since they are not in my collection and do not want them cluttering up my parts analysis. I can see that there are around 185 of these shared family sets waiting for grandkids or nostalgic adults to come along.
© 2020 Brickset.com. Republication prohibited without prior permission.
Source: 51583
Shopping at LEGO.com or Amazon?
Please use our links: LEGO.com • Amazon
Recent discussions • Categories • Privacy Policy • Brickset.com
Categories
15.7K

General

2.3K

Brickset

13.8K

Shopping

1.2K

Other
Brickset.com is a participant in the Amazon Services LLC Associates Program, the Amazon.com.ca, Inc. Associates Program and the Amazon EU Associates Programme, which are affiliate advertising programs designed to provide a means for sites to earn advertising fees by advertising and linking to Amazon.
As an Amazon Associate we earn from qualifying purchases.