Shopping at LEGO or Amazon?
Please use our links:
LEGO.com
•
Amazon
As an Amazon Associate we earn from qualifying purchases.
Meet a member: EpicMindvolt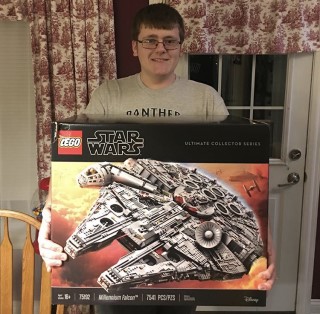 Today we are talking to EpicMindvolt, a student attending Western Kentucky University:
What is your first LEGO memory?
When I was about five years old, I first remember opening up Quatro set 5357 Large Quatro Bucket for Christmas in 2004 or 2005, but that didn't spark my interest. What got me interested in LEGO for real was opening set 6166 LEGO Large Brick Box for Christmas 2008. After this, I fell in love with LEGO.
Did you have a dark age and if so what caused you to emerge from it?
My dark age was about late 2013 to summer 2014. As I was only about 12 years old at the time I didn't have much money but whatever I did have I spent on Skylanders. I didn't really buy LEGO in that time, however, in summer 2014 a Bricks and Minifigs store opened near me and I quickly emerged from my dark age after buying a few classic minifigures from there. Since then I have been just as enthusiastic as I was before my dark age!
© 2020 Brickset.com. Republication prohibited without prior permission.
Source: 51094
Shopping at LEGO.com or Amazon?
Please use our links: LEGO.com • Amazon
Recent discussions • Categories • Privacy Policy • Brickset.com
Categories
15.7K

General

2.3K

Brickset

13.8K

Shopping

1.2K

Other
Brickset.com is a participant in the Amazon Services LLC Associates Program, the Amazon.com.ca, Inc. Associates Program and the Amazon EU Associates Programme, which are affiliate advertising programs designed to provide a means for sites to earn advertising fees by advertising and linking to Amazon.
As an Amazon Associate we earn from qualifying purchases.