Shopping at LEGO or Amazon?
Please use our links:
LEGO.com
•
Amazon
As an Amazon Associate we earn from qualifying purchases.
Doodle a key worker minifigure competition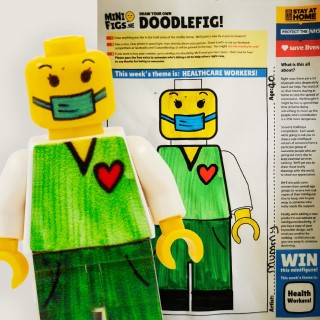 Minifigs.me, purveyor of fine custom printed minifigures, is running a series of competitions over the next few weeks:
With key workers going out and taking risks on a daily basis in order to keep vital services running and with the rest of us in lock-down, minifigs.me wanted to think of a fun activity that people could partake in which would cheer up key workers and show our appreciation of everything they are doing.
We are therefore holding a series of competitions, where people of all ages will be invited to doodle their own minifigures. Each week, we will ask people to draw a cute minifigure version of someone from a particular group of key workers. This week's theme will be health care workers, and later themes will be emergency services, teachers, delivery drivers and postal workers, carers and support staff, and supermarket staff and others working in the food industry.
© 2020 Brickset.com. Republication prohibited without prior permission.
Source: 49523
Shopping at LEGO.com or Amazon?
Please use our links: LEGO.com • Amazon
Recent discussions • Categories • Privacy Policy • Brickset.com
Categories
15.7K

General

2.3K

Brickset

13.8K

Shopping

1.2K

Other
Brickset.com is a participant in the Amazon Services LLC Associates Program, the Amazon.com.ca, Inc. Associates Program and the Amazon EU Associates Programme, which are affiliate advertising programs designed to provide a means for sites to earn advertising fees by advertising and linking to Amazon.
As an Amazon Associate we earn from qualifying purchases.