Shopping at LEGO or Amazon?
Please use our links:
LEGO.com
•
Amazon
As an Amazon Associate we earn from qualifying purchases.
Featured set of the day: Wolfpack Renegades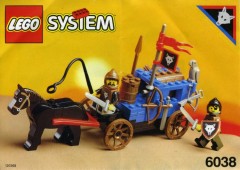 Today's selection is brought to you by redbeardlegoman:
6038 Wolfpack Renegades was one of the first sets I ever bought. My friend had it, and I thought it was brilliant. I was especially enamoured with the hide-away feature for the minifigures in the bottom of the cart.



I was so excited about this set from playing with it at my friend's house, that I ran home, counted my saved allowance, and asked my mom to run me to Zeller's to see if they still had one. They did.



I was just a bit short because of tax, but my mom picked up the difference. Once we got home, the rest of my day was spent playing with this and my 6075 Wolfpack Tower (the very first set I ever bought myself).



I still have my beloved 6038 -- though I really, really, really wish I hadn't kragled the minifigs together!



The Wolfpack remains my all-time favourite sub-theme, even with its three excellent sets. I would die if TLG ever re-issued or created new ones. And 6038 Wolfpack Renegades is the best set of the three.
© 2020 Brickset.com. Republication prohibited without prior permission.
Source: 49522
Shopping at LEGO.com or Amazon?
Please use our links: LEGO.com • Amazon
Recent discussions • Categories • Privacy Policy • Brickset.com
Categories
15.7K

General

2.3K

Brickset

13.8K

Shopping

1.2K

Other
Brickset.com is a participant in the Amazon Services LLC Associates Program, the Amazon.com.ca, Inc. Associates Program and the Amazon EU Associates Programme, which are affiliate advertising programs designed to provide a means for sites to earn advertising fees by advertising and linking to Amazon.
As an Amazon Associate we earn from qualifying purchases.