Shopping at LEGO or Amazon?
Please use our links:
LEGO.com
•
Amazon
As an Amazon Associate we earn from qualifying purchases.
New version of Brickset API now available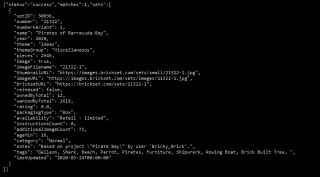 We've offered an application programming interface (API) to Brickset's database for some time and a number of excellent apps for mobile platforms have been developed as a result.
The current version is based on XML, so is a bit clunky and hard to use, but this week I finally found the time to update it to provide responses in JSON which should make it much easier to digest.
So, version 3 of the API is now live and, thanks to valuable help and feedback from RikTheVeggie (author of MyBrickset for Android), I think it's now ready for widespread use.
There may still be a few bugs, and a few minor changes that need to be made, but if you're looking for a software development project to occupy yourself while you're holed up, take a look at the documentation, request an API key and get started!
I look forward to seeing what you come up with...
© 2020 Brickset.com. Republication prohibited without prior permission.
Source: 49510
Shopping at LEGO.com or Amazon?
Please use our links: LEGO.com • Amazon
Howdy, Stranger!
It looks like you're new here. If you want to get involved, click one of these buttons!
Quick Links
Categories
2

Announcements

10.5K

General

13.3K

Shopping

2.1K

Brickset

1.1K

Other
Brickset.com is a participant in the Amazon Services LLC Associates Program, the Amazon.com.ca, Inc. Associates Program and the Amazon EU Associates Programme, which are affiliate advertising programs designed to provide a means for sites to earn advertising fees by advertising and linking to Amazon.
As an Amazon Associate we earn from qualifying purchases.