Shopping at LEGO or Amazon?
Please use our links:
LEGO.com
•
Amazon
As an Amazon Associate we earn from qualifying purchases.
Featured set of the day: Hovercraft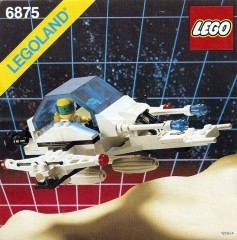 Today's set has been selected by myth:
This little spacecraft, 6875 Hovercraft, was my first ever set. From what little I remember from that time, as I was 5 or 6 years old, I immediately fell in love with LEGO and the whole space theme. Wings from the Hovercraft can be detached and form two small spacecrafts, or one bigger if you combine them. Little me had countless hours of fun playing with the modular spaceship!



Interestingly enough, my second set about a year later was Fabuland's 3680 Caravan and Rowboat. The "proper order" should have been other way round. But this was just around the time when the Berlin wall fell, so my parents were very lucky to find any LEGO to buy at all.
I received it at Christmas, while my cousin got another Futuron set, 6893 Orion II Hyperspace. I remember thinking "Wait a minute, this looks very similar to my spacecraft. I'd like to have that!" She preferred my Fabuland set, so we would have liked to have swapped but, alas, after the Christmas we parted with our gifts as given to us by our parents.
I spent time playing with the spacecraft, both in its original form or building my own creations. Many times I tried to build alternative models as presented on the backside of the box, mostly failing. There was always some detail I failed to build. As years went by both the instructions and the box became lost.
© 2020 Brickset.com. Republication prohibited without prior permission.
Source: 49474
Shopping at LEGO.com or Amazon?
Please use our links: LEGO.com • Amazon
Recent discussions • Categories • Privacy Policy • Brickset.com
Categories
15.7K

General

2.3K

Brickset

13.8K

Shopping

1.2K

Other
Brickset.com is a participant in the Amazon Services LLC Associates Program, the Amazon.com.ca, Inc. Associates Program and the Amazon EU Associates Programme, which are affiliate advertising programs designed to provide a means for sites to earn advertising fees by advertising and linking to Amazon.
As an Amazon Associate we earn from qualifying purchases.