Shopping at LEGO or Amazon?
Please use our links:
LEGO.com
•
Amazon
As an Amazon Associate we earn from qualifying purchases.
Featured set of the day: Crystal Explorer Sub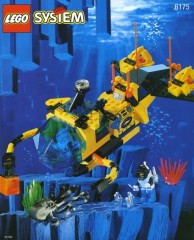 Welcome to what I hope will be a regular series of articles. Every day we plan to feature a classic set that holds some significance to a Brickset reader, and we will ask them to explain why.
To kick things off I'm going to start with 6175 Crystal Explorer Sub.
I emerged from my dark ages in 1995 and initially my interest was in Technic, as it was when I entered them in 1979. However, that year the first Aquazone sets were released and for some reason they immediately caught my eye. I think it must have been the futuristic design, attractive colour scheme and cool minifig helmets.
6175 Crystal Explorer Sub was the mid-range set of that first wave. It featured the good guys of the theme, the Aquanauts. Unlike many of today's sets there was no conflict in the box: just divers peacefully going about their exploratory business with no weapons in sight. If you wanted conflict, other sets in the range could be purchased to provide it.
© 2020 Brickset.com. Republication prohibited without prior permission.
Source: 49465
Shopping at LEGO.com or Amazon?
Please use our links: LEGO.com • Amazon
Recent discussions • Categories • Privacy Policy • Brickset.com
Categories
15.7K

General

2.3K

Brickset

13.8K

Shopping

1.2K

Other
Brickset.com is a participant in the Amazon Services LLC Associates Program, the Amazon.com.ca, Inc. Associates Program and the Amazon EU Associates Programme, which are affiliate advertising programs designed to provide a means for sites to earn advertising fees by advertising and linking to Amazon.
As an Amazon Associate we earn from qualifying purchases.