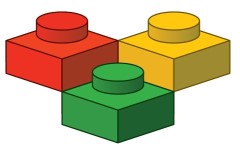 Last week we asked What can Brickset do for you? in these challenging times. We had a terrific response in the comments. We read them all and yesterday and picked out those that we intend to pursue.
So, here's what we have planned:
Brickset Tutorials -- it's clear that some of the more advanced functionality of the site is buried away and often lies undiscovered. We will therefore provide more tutorials (which can be accessed at any time from the orange More... menu above) including on how to mark minifigs as missing and how to create custom queries.
Parts articles -- Many fo you said how much you enjoyed our articles that take a look at specific types of parts, e.g. the one on Technic pins, so we'll try and do more. However, bear in mind that they are time-consuming to research.
More competitions -- You made some great suggestions for building competitions. We plan to kick-off the first one this week. We will try and have a couple running concurrently so you can hopefully find one that interests you.
Guest author articles -- We'd love to publish articles by guest authors but of course we need them to write them first! If you have something you'd like to contribute let us know.
Featured classic set -- We really liked this idea and this will be one of the first things we do. Rather than us writing them all, though, we will ask YOU to contribute and pick a set that has some meaning to you. We'll provide more information about this later on today.
User interviews -- Interviews with Brickset users about their first set, their favourite set, their collection, that sort of thing, is another thing we'd really like to do but of course we need volunteers! If you're up for it, let us know. To make them more interesting we'd like to include a picture of you, so bear that in mind.
Guest reviewers -- We'd love to publish more of your set reviews on the home page but of course we need to ensure they meet the expectations of our readers. We will therefore look to set up some form of reviewer mentoring scheme to provide feedback and ensure quality. Again, if you're interested in getting involved, get in touch.
If you're interested in getting involved please get in touch using the contact form, rather than commenting below. It makes it much easier for us to keep track. Thank you!
That should hopefully be enough to keep us going for a while...
© 2020 Brickset.com. Republication prohibited without prior permission.