Shopping at LEGO or Amazon?
Please use our links:
LEGO.com
•
Amazon
As an Amazon Associate we earn from qualifying purchases.
Here's a BrickHeadz everyone will want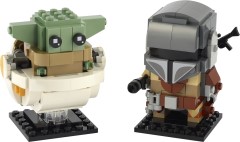 Promobricks has uncovered a new BrickHeadz set, 75317 The Mandalorian & The Child, on Amazon.ca.
After the two lacklustre films that concluded the sequel trilogy, the Disney+ TV serves The Mandalorian demonstrates that it is possible to create something set in the Star Wars universe that's worth watching, so I'm sure this will be very popular with Star Wars and BrickHeadz fans alike.
If you've not watched it yet you will no doubt have seen dozens of memes on social media featuring the cute Yoda-like character known simply as The Child who glides around in a floating pod.
Anyway, the set contains 295 parts and will probably cost the same as other double BrickHeadz packs, $20 / £18. Amazon claims it'll be released on August 1st, by which time the streaming TV service will have been launched in most Europan countries.
© 2020 Brickset.com. Republication prohibited without prior permission.
Source: 48924
Shopping at LEGO.com or Amazon?
Please use our links: LEGO.com • Amazon
Howdy, Stranger!
It looks like you're new here. If you want to get involved, click one of these buttons!
Quick Links
Categories
2

Announcements

10.5K

General

13.3K

Shopping

2.1K

Brickset

1.1K

Other
Brickset.com is a participant in the Amazon Services LLC Associates Program, the Amazon.com.ca, Inc. Associates Program and the Amazon EU Associates Programme, which are affiliate advertising programs designed to provide a means for sites to earn advertising fees by advertising and linking to Amazon.
As an Amazon Associate we earn from qualifying purchases.