Shopping at LEGO or Amazon?
Please use our links:
LEGO.com
•
Amazon
As an Amazon Associate we earn from qualifying purchases.
Order the DC minifigs at Minifigure Maddness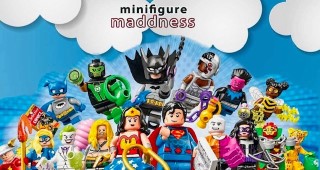 Here's word from Conor over at Minifigure Maddness:
"First of all, I would like to personally thank all Brickset readers for their continued support to our small business throughout 2019 and I would like to wish you all a very Happy and Healthy New Year.
"This month we are offering Brickset readers an excellent Flash New Years offer for 2 New/Sealed boxes of 30 LEGO minifigures DC Comics Series for only €174.99 when you enter code Brickset64 at checkout. That's a incredible RRP saving of €64.41 / £63 / $102.
"As an added New Year's Week only offer we are offering FREE DHL Express Shipping within Europe for all orders when you enter code Brickset66 at checkout.
"These are the final days to avail yourselves of these excellent savings before all preorders/orders are shipped between 17th-20th January.
Limited stock available, offers are only valid until while allocated stock lasts."
© 2020 Brickset.com. Republication prohibited without prior permission.
Source: 48185
Shopping at LEGO.com or Amazon?
Please use our links: LEGO.com • Amazon
Howdy, Stranger!
It looks like you're new here. If you want to get involved, click one of these buttons!
Quick Links
Categories
2

Announcements

10.2K

General

13.1K

Shopping

2.1K

Brickset

1.1K

Other
Brickset.com is a participant in the Amazon Services LLC Associates Program, the Amazon.com.ca, Inc. Associates Program and the Amazon EU Associates Programme, which are affiliate advertising programs designed to provide a means for sites to earn advertising fees by advertising and linking to Amazon.
As an Amazon Associate we earn from qualifying purchases.