Shopping at LEGO or Amazon?
Please use our links:
LEGO.com
•
Amazon
As an Amazon Associate we earn from qualifying purchases.
The Advent Countdown begins tomorrow!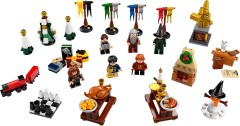 December commences tomorrow and Brickset's annual Advent Countdown is accordingly returning.
Four new Advent Calendars have been produced this year and Huwbot recently discovered the existence of a Clikits Advent Calendar from 2004 so is discussing that. These articles will be spread throughout the day:
Times are GMT/UTC.
The Advent Calendar articles will be spoiler-free as they appear on the homepage so you can safely visit Brickset before opening your own. Alternatively, you can change your news article preferences on your profile page if you would rather not see the Advent Countdown.
December is particularly busy on Brickset and we have plenty of interesting articles coming up within the next few weeks, including our first 2020 set reviews!
© 2019 Brickset.com. Republication prohibited without prior permission.
Source: 47404
Shopping at LEGO.com or Amazon?
Please use our links: LEGO.com • Amazon
Howdy, Stranger!
It looks like you're new here. If you want to get involved, click one of these buttons!
Quick Links
Categories
2

Announcements

10K

General

13K

Shopping

2.1K

Brickset

1.1K

Other
Brickset.com is a participant in the Amazon Services LLC Associates Program, the Amazon.com.ca, Inc. Associates Program and the Amazon EU Associates Programme, which are affiliate advertising programs designed to provide a means for sites to earn advertising fees by advertising and linking to Amazon.
As an Amazon Associate we earn from qualifying purchases.