Shopping at LEGO or Amazon?
Please use our links:
LEGO.com
•
Amazon
As an Amazon Associate we earn from qualifying purchases.
Piqabrick update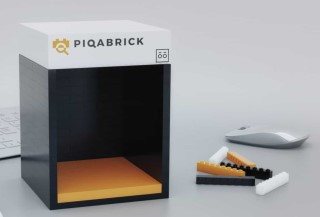 A few weeks ago we told you about Piqabrick, a part identification system on Kickstarter. It is now 60% funded with 11 days to go, so there's a good chance that it will reach its funding target.
Over the weekend I was exhibiting my GBCs at the Bricks in Florence Festival in Italy and while there I met up with its creators, Stefano and Claudio, who demonstrated it to me. Having seen it for myself, I can say categorically that it works!
They very kindly gave me the prototype unit they were using for the demonstration so I can test and review it at home, so I will be doing so later this week.
Find out more about how it could save you time identifying parts, particularly printed pieces and minifigs, after the break, and if Piqabrick piques your interest you can back the project on Kickstarter.
© 2019 Brickset.com. Republication prohibited without prior permission.
Source: 46870
Shopping at LEGO.com or Amazon?
Please use our links: LEGO.com • Amazon
Howdy, Stranger!
It looks like you're new here. If you want to get involved, click one of these buttons!
Quick Links
Categories
2

Announcements

10K

General

13K

Shopping

2.1K

Brickset

1.1K

Other
Brickset.com is a participant in the Amazon Services LLC Associates Program, the Amazon.com.ca, Inc. Associates Program and the Amazon EU Associates Programme, which are affiliate advertising programs designed to provide a means for sites to earn advertising fees by advertising and linking to Amazon.
As an Amazon Associate we earn from qualifying purchases.