Shopping at LEGO or Amazon?
Please use our links:
LEGO.com
•
Amazon
As an Amazon Associate we earn from qualifying purchases.
Brick Fanatics Magazine issue 12 available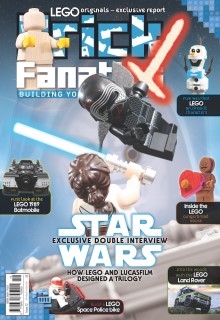 The twelfth issue of Brick Fanatics magazine is now available. Here is the press release:
Brick Fanatics Magazine Issue 12 available now!
An interview between LEGO Star Wars and Lucasfilm, a first look at 76139 1989 Batmobile and an exclusive LEGO Originals Wooden Minifigure report all make Issue 12 of Brick Fanatics Magazine unmissable.
The 12th edition of the print publication all about LEGO is available worldwide to order at brickfanatics.com, with shipping due from the end of November. Single copies (with additional postage and packaging charge) and 12-issue and 24-issue subscriptions from Issue 12 are all available to order.
This issue leads with a very special interview between LEGO and Lucasfilm, as Brick Fanatics Magazine brings together designers from both companies who have played their part in shaping this most recent era of Star Wars on the big screen and in LEGO.
© 2019 Brickset.com. Republication prohibited without prior permission.
Source: 46805
Shopping at LEGO.com or Amazon?
Please use our links: LEGO.com • Amazon
Categories
1

Announcements

11.5K

General

13.9K

Shopping

2.1K

Brickset

1.1K

Other
Brickset.com is a participant in the Amazon Services LLC Associates Program, the Amazon.com.ca, Inc. Associates Program and the Amazon EU Associates Programme, which are affiliate advertising programs designed to provide a means for sites to earn advertising fees by advertising and linking to Amazon.
As an Amazon Associate we earn from qualifying purchases.