Shopping at LEGO or Amazon?
Please use our links:
LEGO.com
•
Amazon
As an Amazon Associate we earn from qualifying purchases.
2020 Chinese New Year sets will be available to all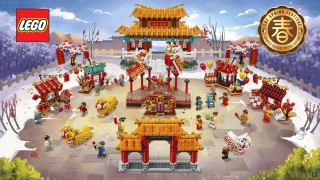 LEGO has just announced two sets that are being released to celebrate the next Chinese New Year:
Celebrate the Chinese New Year with LEGO Lion Dance and Traditional Temple Fair
Today, the LEGO Group revealed its 2020 Chinese New Year sets - 80104 Lion Dance and 80105 Chinese New Year Temple Fair. The launch follows on from this year's popular sets: 80101 Chinese New Year's Eve Dinner, 80102 Dragon Dance and 80103 Dragon Boat Race, the first LEGO products created to mark the festivities. [This is not true -- Huw]
The Lion Dance set vividly reproduces a well-loved scene of the Spring Festival and is sure to evoke fond memories of the traditional festival. The set features 5 beautifully decorated small lion figurines and a percussionists' stage with an awesome drumming function.
An accompanying temple gate is decorated with LEGO tiles featuring traditional patterns. The set also comes complete with 8 minifigures including lion dancers and a man in rat costume to mark the Year of the Rat. Additional accessory elements such as the red 'best wishes' scroll, red orb, cabbage, calligraphy brush and a rocket firework are included to inspire unlimited role-play.
© 2019 Brickset.com. Republication prohibited without prior permission.
Source: 46746
Shopping at LEGO.com or Amazon?
Please use our links: LEGO.com • Amazon
Categories
1

Announcements

11.5K

General

13.9K

Shopping

2.1K

Brickset

1.1K

Other
Brickset.com is a participant in the Amazon Services LLC Associates Program, the Amazon.com.ca, Inc. Associates Program and the Amazon EU Associates Programme, which are affiliate advertising programs designed to provide a means for sites to earn advertising fees by advertising and linking to Amazon.
As an Amazon Associate we earn from qualifying purchases.