Shopping at LEGO or Amazon?
Please use our links:
LEGO.com
•
Amazon
As an Amazon Associate we earn from qualifying purchases.
LEGO to donate one million sets to children in need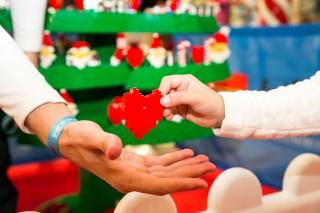 Here's a press release about this year's Build To Give campaign:
Through the Build to Give campaign, the LEGO Group donated more than 500.000 LEGO sets last year to children around the world. This holiday season, the company seeks to double the donation and is asking builders to help reach a donation of 1 million LEGO sets to bring a smile to the faces of children in need of play.
Through LEGO Build to Give, the LEGO Group wants to donate 1 million LEGO sets to children that find themselves in difficult and vulnerable circumstances during the holiday season. That is why the LEGO Group is encouraging fans of all ages to take part in building a fun LEGO holiday ornament. For every ornament built and displayed in a LEGO store or shared online, the LEGO Group will donate one LEGO set to a child in need within hospitals, children homes, or underserved communities.
© 2019 Brickset.com. Republication prohibited without prior permission.
Source: 46744
Shopping at LEGO.com or Amazon?
Please use our links: LEGO.com • Amazon
Howdy, Stranger!
It looks like you're new here. If you want to get involved, click one of these buttons!
Quick Links
Categories
2

Announcements

9.8K

General

12.9K

Shopping

2.1K

Brickset

1.1K

Other
Brickset.com is a participant in the Amazon Services LLC Associates Program, the Amazon.com.ca, Inc. Associates Program and the Amazon EU Associates Programme, which are affiliate advertising programs designed to provide a means for sites to earn advertising fees by advertising and linking to Amazon.
As an Amazon Associate we earn from qualifying purchases.