Shopping at LEGO or Amazon?
Please use our links:
LEGO.com
•
Amazon
As an Amazon Associate we earn from qualifying purchases.
Identification of Lego System wooden box set from 1960s
Hi,
I hope someone can help me identify a Lego System set a friend has asked me to sell for her on eBay.  I think it is a 700 set but I'm unsure since the source information I've found on the web is confusing and appears incomplete and in some cases contradictory.  I've prepared some blurb for the ebay listing and I hope some of you experts may be able pin point exactly what it is, the listing is as follows, thanks in advance:
This is a Lego System set from the 1960s and I'm selling it behalf of my friend who has owned it since she was a little girl (she's not an eBay user).
The set comes in a large wooden box measuring 70 x 400 x 473 millimetres with a sliding lid for access. There's an additional play mat (400 x 540 millimetres when folded) that is slightly larger than the box and features a town plan on the inside with ideas and additional pieces on the back (see photos), the play mat also sports metal corners and a fabric book style spine to improve durability.
The box contains 1111 (my son and I have counted them) Lego pieces, which vary from the standard block shapes to lampposts and motor cars; the full list is detailed below including colours (see photos).
All items show varying degrees of use with the box exhibiting its age (shrinkage, scratches, etc.) with most and the pieces being in very good condition.
Documentation wise, it contains a booklet titled Ideas Book No. 2 (for 6d).  This contains 11 pages of ideas plus adverts for other Lego products.  Additionally there are two notes that demonstrate how to put the bricks together to form a stable structure plus an additional two slips that state "No complaint can be dealt with unless this slip is returned.  BRITAINS LTD.  186 King's Cross Rd., London, W.C.1" .
Some pictures: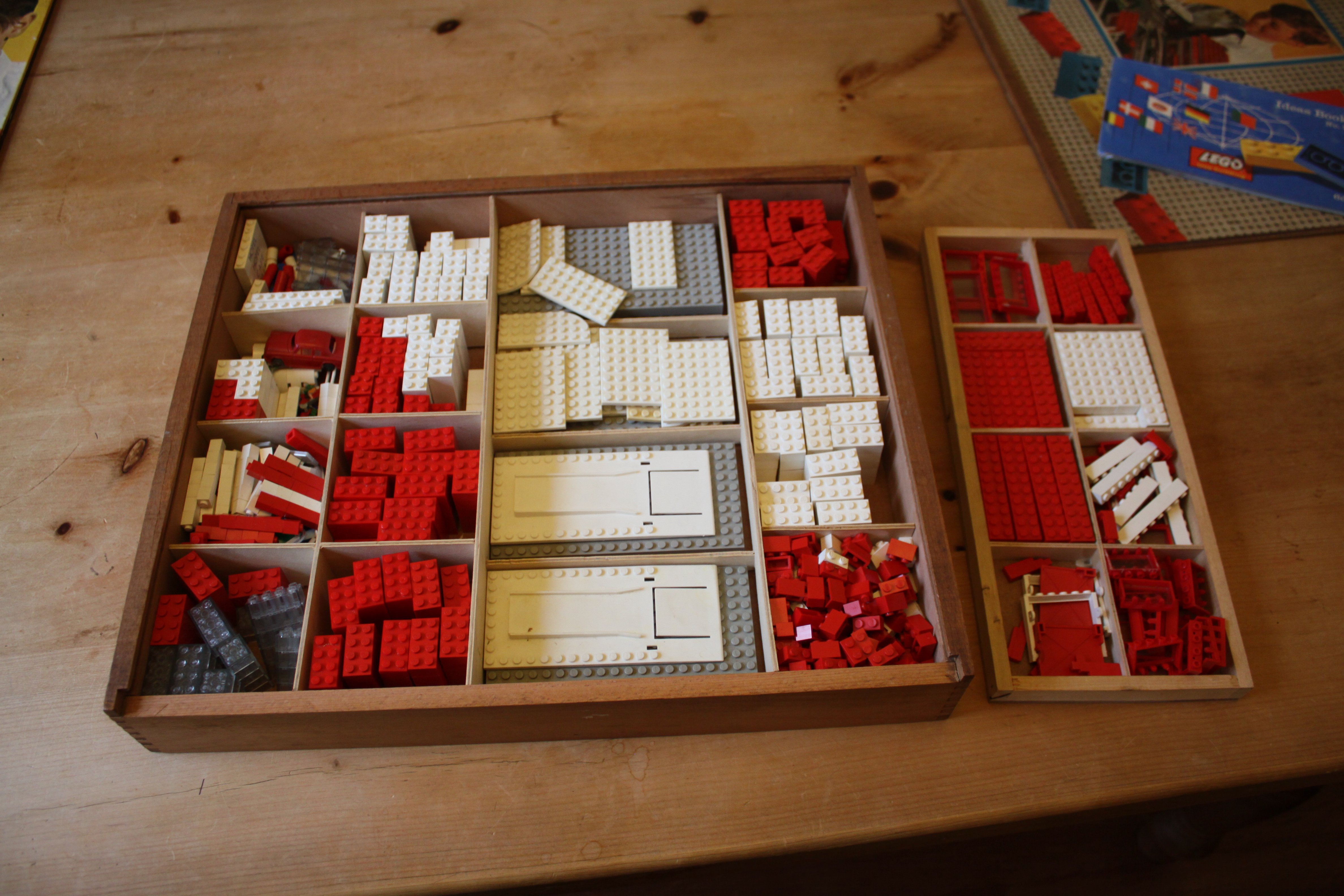 Shopping at LEGO.com or Amazon?
Please use our links: LEGO.com • Amazon
Recent discussions • Categories • Privacy Policy • Brickset.com
Categories
16.2K

General

2.3K

Brickset

13.9K

Shopping

1.2K

Other
Brickset.com is a participant in the Amazon Services LLC Associates Program, the Amazon.com.ca, Inc. Associates Program and the Amazon EU Associates Programme, which are affiliate advertising programs designed to provide a means for sites to earn advertising fees by advertising and linking to Amazon.
As an Amazon Associate we earn from qualifying purchases.